Aysu Replacement Parts Home
> Manufacture
Parts we produced, pass our quality managemet system and, superior craftsmanship before being delivered to you. All parts have 6 months warranty against any problem caused by craftmanship or calculation. As Aysu Replacement Parts Company we are proud of to serve you in replacement parts sector since over 30 years. In order to our first principle - customer and quality focused work, we give necessary importance every order we receive. Our most important goal is to build good relations with all companies we are making business.
Our Capabilites
Laser Cutting

With our three 2500 watt Automated Laser Cutting Cells we can cut up to .250" aluminum .375 STL.ST and .625 thick steel with little set-up and no tooling. Our 5 axis laser has a 6th axis which allows us the capability of cutting round and shaped tubing.
1 Mazak Space Gear Laser 2,500 watt 5 axis capability 5' x 10' sheet capacity, with FMS Load/Unload System Tube cutting capabilities.
2 Mazak Laser, 2,500 Watts, 5'x 10' Sheet Capacity, Cuts up to ?" in Mild Steel, Equipped with a FMS Load Unload System for Automatic Sheet Loading and Unloading.
Metal Forming

We form a wide range of products. Our CNC Press Brake Department consists of machines ranging from 4' by 55 Ton to 14' by 242 Ton giving us a full range of capabilities.
1 Amada HB2042 Press Brake, 242Tons, 174" Bed, 8 Axis CNC Back Gage
1 Amada RG 125 Press Brake, 120" Bed, CNC Back Gage
3 Amada RG 80 Press Brake, 100" bed, CNC Back Gage
4 Amada RG 50 Press Brake, 80" bed, CNC Back Gage
2 Amada RG 35 Press Brake, 48" bed, CNC Back Gage
1 Amada 24" Power Roller Leveler
Welding

During the welding process two or more metal parts are permanently joined together by melting both materials. The molten materials quickly cool, and the two metals are permanently bonded. Whether it's a simple spot weld or a 10" x 10" frame with over one hundred welds. Our certified welders are fully experienced in welding complex assemblies to the finest detail. We also comply with the following:
AWS D1.3 (CRS both Mig & Tig)
AWS D1.6 (Stainless Steel both Mig & Tig)
Metal Stamping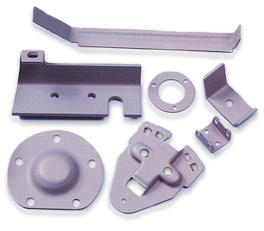 In addition, our multi-plant operations allows us design and manufacture the tools required for your higher volume or tight tolerance products. We also have stamping capabilities up to 165 ton that can be used for higher quantities, as well as special prototype applications. These presses equipped with feed lines allow us to run all types of tools including compound, simple form, multi station form and progressive dies. We can meet all of your stamping needs including: design, build and qualify your tools; run production for you after the tools has been qualified. We can also have your existing tools moved to our facility, qualified and run your production requirements.
Metal Punching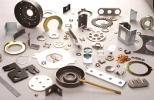 Punching is the process of forming metal components using a punch. The punch is usually the upper member of the complete die assembly and is mounted on the slide or in a die set for alignment (except in the inverted die). Our punching capabilities includes our new Amada EM2510 high speed servo driven CNC turret punch press capable of forming & taping using a brush table for scratch free blanks.
CNC Machining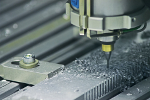 Our CNC machines can perform many labor intensive operations with extreme accuracy and consistency, holding tolerances as close as .002". Multiple parts can be manufactured simultaneously on these machines thereby increasing productivity and allowing us to pass on the savings to our customers.
1 VTC 16B Table size 22"x 44"
2 NEXUS 510C Travel Size 20 X 41
Assembly and Secondary Operations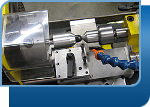 We provide upper level value added electro-mechanical assembly services and testing. This value added concept has saved our customers time and the high cost of capital expenditures. We have both single and dual head timesaving, stroke standing, vibratory, deburring, and a number of skilled grinders & finishers capable of providing a variety of deburring & cosmetic finished. Our hardware Insertion Department is well equipped to handle most any kind of hardware available The demands of contract manufacturing drive the assembly floor to be flexible and responsive. New product development is handled through a team of individuals whose primary goal is to produce a robust assembly process that revolves around tooling to control critical to function dimensions, visual information aids that use digital pictures to show steps of a process and calls out the tools, fixtures, jigs to be used along with pertinent quality info, all to meet customer requirements.
Inspection
With our new Fabrivision flat part measurement and digital scanner we can scan parts and import the cad files to compare the dimensions to the actual part. This makes first piece approvals fast and accurate and shortens the lead time to production.